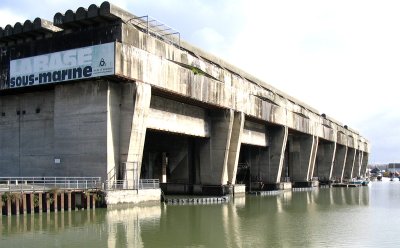 Submarine base
5 mins by car from Seeko'o
The submarine base is one of the five bases built along the Atlantic coastline to accommodate the submarine u-boat fleets during the Second World War. Construction by the German armed forces began in 1941 and was completed in 1943. This huge bunker is organised into eleven different sections, which are inter-connected by means of an internal route. The whole structure covers a total surface area of 43,000 m2.
Today, just 12,000 m2 are open to the public, converted into an unusual cultural space managed by Bordeaux City Council. Throughout the year, the submarine base welcomes a multi-disciplinary schedule with temporary exhibitions, concerts, lyrical art, jazz, theatrical events and dance.
A symbolic building of the Bordeaux dock basins, the submarine base is part of a larger project seeking to re-qualify the whole area.
Address: Boulevard Alfred Daney – 33300 Bordeaux
Tel.: 05 56 11 11 50 – Fax: 05 56 39 94 45
Opening hours
Exhibition:
Open from Tuesday to Sunday 13:30 – 19:00
Closed Mondays and public holidays
Outside exhibitions, the submarine base is closed to the public